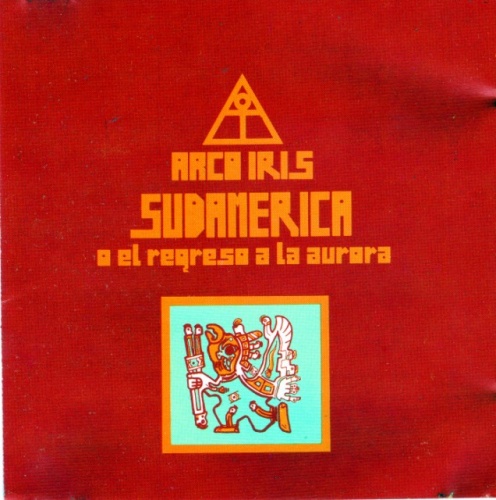 Artist
: Arco Iris
Title Of Album
: Sudamerica O El Regreso A La Aurora
Year Of Release
: 1972/1992
Label (Catalog#)
: Music Hall [MH 10076/7-2]
Country:
Argentina
Genre
: Prog Rock, Jazz Rock, Fusion, Latin Folk
Quality
: FLAC (tracks + cue,log)
Total Size
: 563mb(+3%)(covers)
Arco Iris biography [progarchives]
Founded in El Palomar, Buenos Aires, Argentina in 1968 - Disbanded in 1975 - Reformed in 1977 up until 2003
A leading band in the developpement of the South America progressive rock scene with Los Jaivas and a few others. Their music is a solid combination of jazz rock, ethnic folk with sometimes subtle "spacey" symphonic arrengements. The initial formation is composed by Altar Tokatlián (winds), Gustavo Santaolalla (voice and guitar), Guillermo Bordarampé. They first formed several bands in the 60s (The Rovers, The Blackbyrds, The Crows) to play covers. They finally recorded their first effort back at the end of the 60´s. It´s an orinal mixture of typical Latin folk, acoustic music and 60´s "acid" rock. After the departure of Alberto Cascino, the drummer Horacio Droopy Gianello integrates the band. They record "Suite numero 1" in 1972 also for RCA. The album "Tiempo de resurrección" published the same year will affirm the own musical identity of the band: an outstanding blend of fusion "folk" music with jazz rock. The double LP "Sudamerica o il regresso a la Aurora" represents the summit of the band in term of orchestral achievement. The music offers an unique multi influences rock universe, made of blues, native music, jazz...Released in 1973 "Inti-Raymi" is a good following to their previous effort but generally seen as less captivating. After the spiritual "Ara Tokatlián & Enrique Villegas : inspiracion" (1975) "Los elementales" (1977) will largely put the stress on freak out jazzy rock improvisations. After this classic period the band has continued to produce records until today, reaching their sound in a more new age and mellow jazz direction.
Tracklist
---------
CD 1:
01. Obertura (12:52)
02. La canción de Nahuel (5:53)
03. Canto del pájaro dorado (3:30)
04. Viaje astral (2:25)
05. Tema del Maestro (2:52)
06. Iluminación (1:59)
07. Gira (3:29)
08. Sígueme (1:48)
09. El negro (1:54)
10. Los campesinos y el viajero (2:18)
11. El estudioso (2:28)
12. Oración de la partida (2:53)
13. Epílogo: Salvense ya (3:02)
CD 2:
14. Recuerdo (3:43)
15. Canción de los peregrinos (2:34)
16. Amancay (2:09)
17. Hombre (17:10)
18. Deserción del viajero (3:00)
19. La duda de los campesinos (3:14)
20. El aliento de Dios (2:17)
21. El viajero delata a los peregrinos (6:52)
22. Persecución de los peregrinos (2:43)
23. Viaje por las galerías subterraneas (1:29)
24. Salida al inmenso lago - Iluminación (2:35)
25. Reencuentro con Amancay - Oremos (0:23)
26. Las colinas y el Maestro / Epílogo: Sudamérica (3:28)
Total Time
: 01:39:11
Personnel:
------
Gustavo Santaolalla / acoustic, 12-string & electric guitars, charango, harmonica, percussion, voice, composer & libretto
Ara Tokatlian / flute, alto, tenor & soprano saxes, keyboards, erke, erkencho, sicuri, quena, pincuyos, percussion, voice
Guillermo Bordarampé / bass, double bass, percussion, voice
Horacio Gianello / drums, percussion
-----------------------------
Danais Wynnycka "Dana" / voice of Amancay
José Ferrari / voice of The Maestro
All thanks to original releaser
Download /Download
=4TYvwDI+I2L8ASY0VGchdWanByLgQXai9mYyVHd+IGP+IyauFGbi9lI9QXZnJXY0BiIENTJENTJn1UbOdVTrZVbOFDOTJmdO1GTqhnMilnUuJmdOJDT29GRjBjUIFWPsJXd/AHaw5ybn9SZul2ZuV2L1NnLyVGdzdmbhd2LvozcwRHdo9CMyM2MmlzYyYGN3ITZ4UmYwEWMjF2M1QmYyQzNlNjN38Cdz9Cdz5Caz9yL6AHd0hmI9YWZyhGIhxjPvAicixDI+E2L8AiPi9CPgEGdlBXYnl2Zg8CI0lmYvJmc1RnPixjPgICRzUSSqplaGRkWspFVOZHMyIma1kXWzlTbjBTNyIma5kHT20ESjBjUIFWPsJXd/AHaw5ybn9SZul2ZuV2L1NnLyVGdzdmbhd2LvozcwRHdo9CMyM2MmlzYyYGN3ITZ4UmYwEWMjF2M1QmYyQzNlNjN38Cdz9Cdz5Caz9yL6AHd0hmI9YWZyhGIhxjPvAicixjcvJncp1mPvAicixDI+E2L8AiPi9CPgQWdvx2YuUGbpZGe+IGP+IyauFGbi9lI9QXZnJXY0BiIENTJENTJnNmcGh1Y6Z0Ril3YYNWMOJDTrZ1MiNnTtxEb4dVYth2MMZ3bENGMShUY9wmc19DcoBnLvd2Ll5Wan5WZvU3cuIXZ0N3ZuF2Zv8iOzBHd0h2LwIzYzYWOjJjZ0cjMlhTZiBTYxMWYzUDZiJDN3U2M2czL0N3L0NnLoN3LvoDc0RHai0jZlJHagEGP
Edited news vyc - 23-06-2022, 12:55
Reason: обновление ссылок